Wine tasting is one of my all time favorite things to do. Living here in Washington State offers 800+ wineries statewide. There are some that are well known and easily found in the grocery store and restaurants but there are hundreds of amazing places that just need a bit more visibility among wine lovers. For many travelers who plan wine tasting trips, they pick up a book or wine trail map and simply pick and choose based on proximity to their driving routes or operating hours not based on the actual experience they will have at the tasting room.
Our objective is to turn the winery from a dot on a tasting trail map into a must visit destination. Through carefully created content, sharing on platforms where people plan their travels and ongoing email marketing our goal is to increase website traffic which increases foot traffic which increased sales and wine club memberships. Effective winery marketing shows the potential visitor WHY they should visit and WHY this winery is special and a must stop location.
These marketing practices can really be applied to any business that wants more visibility through website traffic and wants to grow their email list for ongoing marketing communication with potential clients. If you want to learn more about the winery marketing practices mentioned in the case study please be in touch!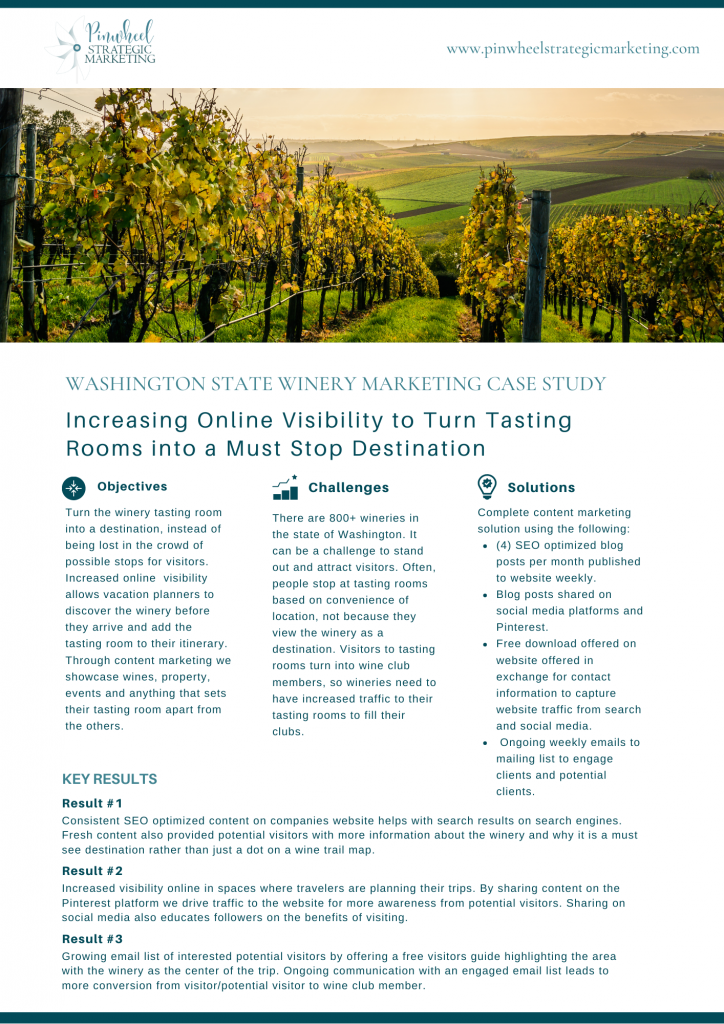 Learn more about how we can increase visibility and profits in your business through content and Pinterest marketing practices. Click the button below to learn about the services highlighted in this case study or schedule your 30 minute discovery call today! We can chat about your challenges, goals and opportunities and how content marketing and Pinterest come together to explode your website traffic and increase your client roster and your profits.